Иерей Серафим Чемодаков
Преподаватель Русской Православной религии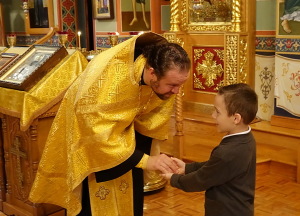 Родился 9 апреля 1976 г. в шт. Нью-Йорк. С 1978 по 1998 гг. проживал а Австралии, где закончил школу. С 1995 по 1998 гг. учился в University of Western Sydney, который окончил со степенью Associate Degree биологических наук. В 1998-2002 гг. обучался в Св. Троицкой духовной семинарии в Джорданвилле. 25 июня 2002 г. митр. Лавром рукополжен в сан диакона. С 2002 по 2005 гг. работал лаборантом в Bassett Healthcare Clinical Laboratory в гор. Куперстаун, шт. Нью-Йорк.
19 августа 2005 г. епископом Манхеттенским Гавриилом рукоположен в сан священника. С 2005 г. по настоящее время – клирик Св. Александро-Невского собора.
---
Priest Seraphim Chemodakov
Teacher of Russian Orthodox Religion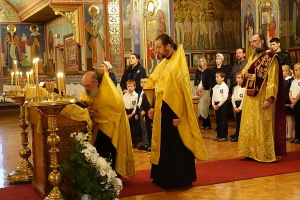 Fr. Seraphim was born on April 9, 1976 in New York State. From 1978-1998, he lived in Australia, where he was educated and graduated high school. From 1995-1998, he studied at the University of Western Sydney, which he graduated with an Associate Degree in Biological Sciences. From 1998-2002, he studied at Holy Trinity Theological Seminary in Jordanville, NY. On June 25, 2002, he was ordained to the diaconate by Metropolitan Laurus. From 2002-2005, he worked as a laboratory assistant at Bassett Healthcare Clinical Laboratory in Cooperstown, NY.
On August 19, 2005, he was ordained the priesthood by Bishop Gabriel of Manhattan. From 2005 to the present, he has been a cleric at St. Alexander Nevsky Cathedral.