Чтец Григорий Левитский
Преподаватель Закона Божия и Русской истории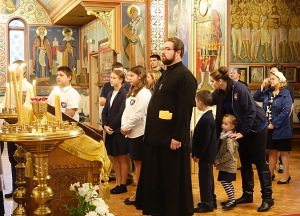 Чтец Григорий Левитский родился в 1985 году. В 2003 г. окончил East Brunswick High School, а в 2007 окончил университет Rutgers со степенью бакалавра политологии и русского языка; в 2014 г. с отличием окончил Св. Тихоновскую православную богословскую семинарию со степенью магистра богословия. В 2007 г. был пострижен во чтецы епископом Манхеттенским Гавриилом. С 2009 г. работает референтом, сотрудником пресс-службы, переводчиком, редактором Восточно-Американской епархии РПЦЗ, а с 2014 г. является казначеем епархии.
После того, как семья чт. Григория прибыла из Франции путем через Бруклин, с 1950-х годов посещает Св. Александро-Невский храм. Его пра-прадедушкой является новомученик Иоаким, архиепископ Нижегородский, убитый большевиками в 1921 г. Его дедушка и бабушка – Всеволод и Виктория – активно участвовали в организации культурного общества "Родина". Его дядя – Александр Всеволодович – 15 лет является старостой Св. Александро-Невского собора, а он с братьями Андреем и Николаем и двоюродным братом Павлом много лет являются алтарниками.
После длительного отсутствия, он вернулся в приходскую школу св. Александра Невского и окончил с отличием в 2005. 2014-2015 учебный год является его первым годом как преподаватель в приходской школе. Его мечта – создать ежедневную православную школу при Александро-Невском приходе.
---
 Reader Gregory Levitsky
Teacher, Law of God & Russian History
Reader Gregory Levitsky was born in 1985. He graduated from East Brunswick High School in 2003, Rutgers University in 2007 with a Bachelor's Degree in Political Science and Russian, and graduated with honors from St. Tikhon's Orthodox Theological Seminary in 2014 with a Master of Divinity. Gregory was tonsured a reader by Bishop Gabriel of Manhattan in 2007. He has worked for the Eastern American Diocese of ROCOR since 2009 as an administrative and media assistant, translator, editor, and – since 2014 – diocesan treasurer.
Rdr. Gregory's family has attended St. Alexander's Church since the 1950s, when they arrived from France via Brooklyn. His great-great-grandfather is the Holy Hieromartyr Joachim, Archbishop of Lower Novgorod, killed by the Bolsheviks in 1921. His grandparents, Vsevolod and Victoria, were actively involved in the organization of the Rodina Cultural Society. His uncle, Alexander V. Levitsky, has served for 15 years as parish warden at St. Alexander's, while he and his brothers Andrew and Nicholas, and cousin Paul, have served in the altar for many years.
After a long absence, he returned to St. Alexander Nevsky Parish School and graduated with honors in 2005. The 2014-2015 academic year will be his first year teaching at the school. His dream is to see St. Alexander's grow into a full-time Orthodox school.